Scene: Dedeaux Field. February 1990. Actresses as far as the eye could see.
Hundreds upon hundreds of hopefuls converged on the diamond at the University of Southern California to try out for the women's baseball movie, the talk of the town. Many were very famous. Others not so much. One actress, Glenne Headly, showed up in ballet slippers. Another, Sean Young, of Blade Runner and Dune fame, walked onto the grass in an antique Yankees uniform. Marla Maples, a former beauty queen and future wife of Donald Trump, wore full-glam makeup and a sash that read "Rockford Peaches." Of Maples, director Penny Marshall would remark, "She wasn't bad."
That winter, actresses booked every LA-adjacent batting cage in anticipation. A League of Their Own felt once-in-a-lifetime, the Halley's Comet of jobs. A refreshing antidote to the stock female sidekicks on the call sheets: Supportive Wife. Nurturing Mom. Hot Girlfriend. Third Babe from the Right. While David Anspaugh advised agents to send only their best, the very worst tried crashing the audition anyway. Penny, who was wrapping Awakenings in New York, refused to coddle the athletically challenged. She told Lowell Ganz, "You could bring me the greatest actress in the world—if the coaches say they're not trainable, they have no chance of being in this movie."
Team Penny divided prospective Peaches into three categories—Athletes, Trainable, and Hopeless—and brought Rod Dedeaux out of retirement to score the women on hitting, catching, and fielding. Dedeaux, who coached the Trojans to 11 national titles during his 45-season tenure, patrolled his namesake stadium alongside USC assistant baseball coach Bo Hughes, grading the women on a scale of one to five, worst to best. He loved the ladies. The septuagenarian had his eye on one woman, a stunner, who couldn't swing a bat to save her life. Frowning, he asked in his New Orleans accent, "Is she trainable?"
Among the auditioners: Courteney Cox, Cindy Crawford, Sarah Jessica Parker, Tatum O'Neal, Kelly Preston, and Brooke Shields, not to mention Elizabeth Perkins, who failed the test. Penny leveled with Elizabeth over the phone. "You throw like a girl," she said.
Daryl Hannah requested a private audition, as did Mariel Hemingway, Laura Dern, Jennifer Grey, and Guess jeans model Carré Otis. Demi Moore, Penny's ideal Dottie, was the first contender to practice with Dedeaux and Hughes. In July, Moore's supernatural romance, Ghost, would top the worldwide box office, besting Garry Marshall's Pretty Woman, a charmer starring Julia Roberts as a hooker with a heart of gold and a megawatt smile. "I had run into [Demi] prior to Awakenings and asked if she could play ball," Penny said. "It turned out she could. She was coordinated—and a strong actress."
Unbeknownst to Penny, Tracy Reiner entered the competition so that her cousin, Wendy Hallin, wouldn't have to try out alone. Wendy, the daughter of Penny's sister Ronny, who produced the TV sitcoms The Hogan Family and Family Matters, had played in an amateur softball league, giving her a leg up, but "was afraid to be around two thousand actresses," Tracy tells me. She reassured Wendy: "Don't worry, it's actresses."
If there's one thing I can do better than Meryl Streep, it's play baseball.
Tracy, then 25, a doe-eyed beauty with thick raven hair, didn't go in cold: she was naturally athletic and dabbled in recreational sports with her musician friends. And yet, she felt awkward, like "I wasn't supposed to be there," she recalls. She tried to remain inconspicuous and stay off to the side. As she threw a ball to Moore's agent, she heard Dedeaux say, "Damn, that girl's got an arm."
Afterward, Tracy and Wendy drove back to the Hollywood Hills. Tracy, recovering from an earlier surgery to remove her wisdom teeth, had "popped" the stitches in her mouth. "I took a whole bunch of aspirin," she says, "and then threw up black [blood]." I'm getting in so much trouble when we go home, she thought to herself. I gotta tell Mom about my teeth.
When they walked inside, Penny paid no mind to her stitch-less predicament. She was already in the know. She demanded answers to how the cousins had tested within the top 20 highest scorers at Dedeaux Field.
The feat blew her away. She got excited and encouraged Tracy to keep auditioning as Anspaugh narrowed his cast roster. "You gotta do this," she said. In conversation with her director, Penny addressed the persistent elephant in the room: nepotism.
"I don't want you to think just 'cause she's my daughter. . . ."
"I know, Penny," Anspaugh said. "She earned it."
While household names vied to impress the coaches, with varying degrees of mediocrity, the real athletes came out swinging.
Rosie O'Donnell, a standup comedian and VH1 veejay, flew in from New York for the occasion. If I don't get this part, I'll quit show business, she thought. If there's one thing I can do better than Meryl Streep, it's play baseball. (As it happened, A League of Their Own was said to have interested Meryl, who loved a physically demanding role, though perhaps hardball was a challenge even she could not master.) Rosie, on the other hand, grew up like Penny, playing with the boys. In the early 1970s, Title IX had yet to take effect in Rosie's hometown of Commack, New York, so Little League remained off-limits to her. She'd sit on the margins at her brothers' games, waiting to dive for foul balls. When her agent alerted her to the League casting call, Rosie knew she held a competitive advantage.
"I went to LA to the batting cages and saw lots of actresses there trying to learn to hit and learn to be athletes, but you could tell the ones that naturally were," she says, adding, "There were just some players that knew how to play and had played their whole life. And it was very familiar to them."
She counted herself among them.
______________________________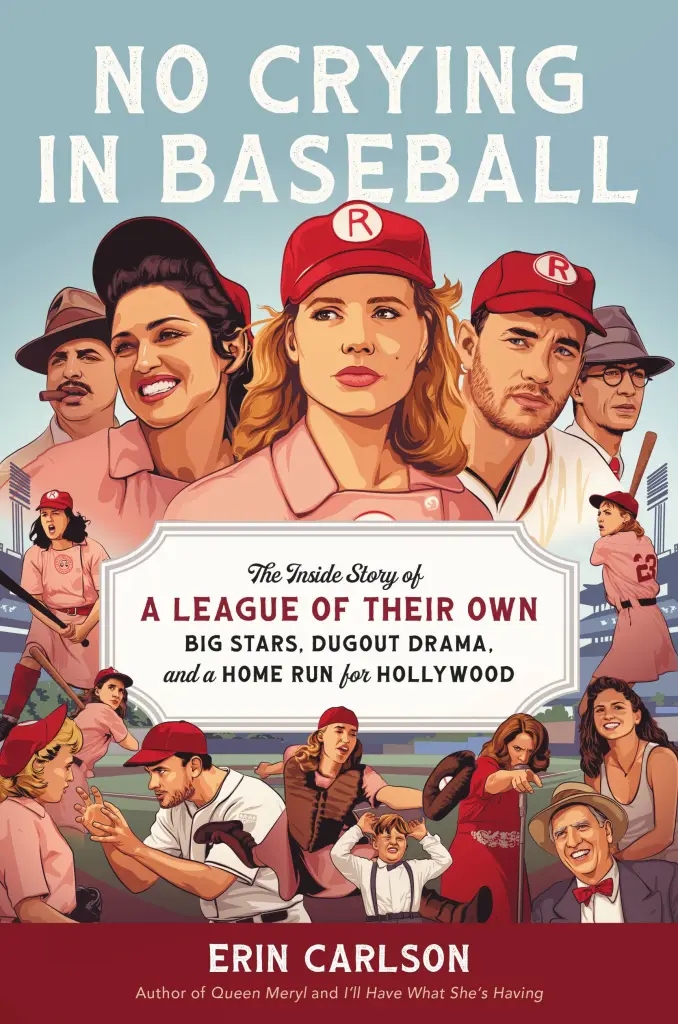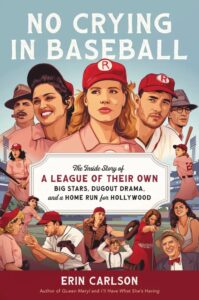 Excerpt from NO CRYING IN BASEBALL: The Inside Story of A League of Their Own: Big Stars, Dugout Drama, and a Home Run for Hollywood by Erin Carlson. Copyright © 2023. Available from Hachette Books, an imprint of Hachette Book Group, Inc.