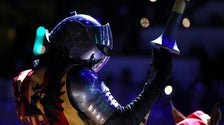 Unionized workers at Medieval Times' castle in Buena Park, California, launched a surprise strike against their employer last Saturday afternoon, just ahead of the day's second performance. The dinner-theater chain managed to put on its show, but not without some serious scrambling as workers headed to the picket line.
According to four workers from the castle, Medieval Times substituted a horse trainer for the show's yellow knight ahead of the performance. Such a replacement would typically not be trained for the dangerous jousting and combat stunts that the knights perform as they fight for the queen's honor. So Medieval Times apparently went off script.
There's a standard moment in the Medieval Times show where the chancellor invites any knights to leave if they believe the danger of combat is too great: "If any of you should lament this petition and its dangers, you are free now to retire in honor." It's a perfunctory overture that the brave knights always decline. But in this case, the employees told HuffPost, the substitute knight took the chancellor's offer and fled the arena on his horse, never to return.
That left revelers who'd been assigned the yellow knight without a hero to cheer for.
"That part of the show is standard, but no one is supposed to leave," said Erin Zapcic, a striking performer who was outside when the show took place.
Zapcic's telling was corroborated by another worker who was inside the castle at the time. This worker, who spoke on condition of anonymity because they don't have union protections, said the company also tapped workers from other departments to work as "squires" in the show, assisting the knights in the arena. The role requires working in close proximity to horses. One of the substitute squires was running around the sand arena in his running shoes, they recalled.
"It was not a safe environment," the worker said.
Medieval Times did not respond to requests for comment on the strike or questions about how it was handling staffing during the work stoppage.
The company soon brought in other trained knights and cast members from far-flung castles to fill in as replacements ― derisively called "scabs" in union parlance ― in order to keep the Buena Park schedule on track. The striking workers saw some of the replacements arrive with their luggage in tow. (Medieval Times has nine U.S. castles and one in Canada.)
Julia McCurdie, another performer on strike, said the company must have gone to great expense to bring in replacements.
"To see them spend thousands upon thousands of dollars flying people out from other castles, putting them up in hotels, paying them a per diem to cover our shifts … That money could have easily been spent on paying us a living wage, which is what we're asking," McCurdie said.
Medieval Times workers have been pressing the company to pay more, with many saying they earn about $18 per hour, or even less ― a sum that they say fails to match either their training or the high cost of living in Southern California. But union members say they went on strike because of the company's unfair labor practices, accusing management of failing to bargain in good faith and unlawfully trying to silence them.
Workers who strike over alleged unfair labor practices generally have more legal protections than workers who strike for economic reasons, and it's more difficult for an employer to permanently replace them. The Buena Park workers became the second group of Medieval Times workers to unionize last year, following a successful union drive at the company's Lyndhurst, New Jersey, castle. (Medieval Times operates nine castles in the U.S. in all.)
The union does not include the castle's food and retail workers. Many workers in the castle's stables department, which is part of the union, have chosen to continue working through the stoppage, employees told HuffPost. But more than half the bargaining unit has opted to join the picket line. Zapcic said some of the workers in other departments have joined the picketers on their days off or during breaks as well.
"More people walked off with us than I thought would," said Jake Bowman, a knight at the castle. "There was a lot of fear that we would be on our own, but the community is rallying behind us, and that's given a lot of people confidence to do this for as long as it takes."
Bowman said the "final domino" preceding the strike was the company's decision to target their social media accounts.
Last year, Medieval Times sued the workers' union, the American Guild of Variety Artists, for allegedly infringing on the company's trademark with its campaign name, Medieval Times Performers United, and its Middle Ages-themed logo. More recently, the company appears to have escalated its trademark fight by trying to have the Buena Park bargaining unit's TikTok and Facebook accounts hushed.
As HuffPost reported last month, the union recently learned that its TikTok account had been banned following an intellectual property complaint. TikTok has not responded to repeated requests for comment from HuffPost.
"There was a lot of fear that we would be on our own, but the community is rallying behind us, and that's given a lot of people confidence to do this for as long as it takes."

– Jake Bowman, Buena Park Medieval Times knight
Perico Montaner, the CEO of Medieval Times, also appears to have filed an intellectual property complaint with Facebook regarding the union's Buena Park account. Facebook parent company Meta told HuffPost that one of the union's posts was taken down erroneously but later restored. The social media company declined to comment further, citing the Medieval Times litigation.
The American Guild of Variety Artists has filed unfair labor practice charges against Medieval Times over both the lawsuit and its apparent attempts to quash the social media accounts. Labor law forbids employers from retaliating against workers for coming together and exercising what's known as "protected concerted activity."
Zapcic said Medieval Times has also muzzled the workers' supporters by hiding comments under the company's social media posts, where commenters were calling for the company to bargain and raise wages.
"We knew a while ago we were going to have to escalate things, but once it got to the point where they were actively silencing us and our supporters and fans, we just said we have to kick this up a notch," said Zapcic. "Timing-wise, it's a busy week. Valentine's Day is a huge revenue generator [for Medieval Times]. It just seemed like if we were gonna do it, we were gonna have to do it now."
Sparring with workers on social media can be a dangerous game for any employer to play. The AFL-CIO labor federation put together a TikTok on Medieval Times' trademark complaints, which likely helped steer union supporters into the comments section of the company's social media posts. At some point, the company appears to have dropped its TikTok handle, @medievaltimestherealone, and migrated to a new one, @medieval.times.official.
After word spread about the TikTok banning, comedian Ben Palmer reached out to the Medieval Times workers to see if there was any way he could help. Palmer has 3.7 million followers on TikTok, where his handle befits his schtick: @palmertrolls. Palmer realized that Medieval Times' old TikTok handle was left up for grabs ― so, he says, he snagged it, branded it "Mid Evil Times," and linked to the union's GoFundMe for strikers, asking followers to "help us stand up to the overlords."
Palmer put together a TikTok blasting Medieval Times management that had more than 660,000 views as of Friday afternoon. By contrast, a typical TikTok from the company itself gets a couple thousand eyeballs.
Asked about his decision to wade into the Medieval Times fight, Palmer told HuffPost in an email that he often trolls companies he believes are mistreating workers, and that he previously emailed Starbucks, Frito-Lay, Nabisco and others when their employees went on strike.
"I support employees making a better life for themselves and the fight against unnecessary corporate greed that leads to unnecessary suffering," he said.
As for being able to grab the company's old TikTok handle, Palmer said: "I guess I could say I'm a little surprised they left their username available, but it also makes sense that they'd be careless."
The strike at Buena Park is open-ended, with workers vowing to stay on the picket line until the company stops its alleged unfair labor practices. The union had a bargaining session with management on Wednesday ― at the same hotel where replacement workers appear to be staying.
Zapcic said strikers have been encouraging customers not to cross the castle's picket line. Many, she said, are unaware of the labor dispute and upset to hear from cast members who have been replaced. The company has been offering credits and refunds to customers with tickets who would rather wait until the dispute is resolved.
Like the Buena Park castle, workers at Medieval Times' New Jersey castle are trying to bargain their first union contract. They are not on strike at the moment, but Marcus de Vere, a knight in New Jersey, said he feels inspired by his fellow performers on the opposite coast.
"I'm extremely proud of them. It takes a lot of courage to do something like that, and they are fed up just like we are," said de Vere. "They're just speaking the truth. What is this company afraid of?"