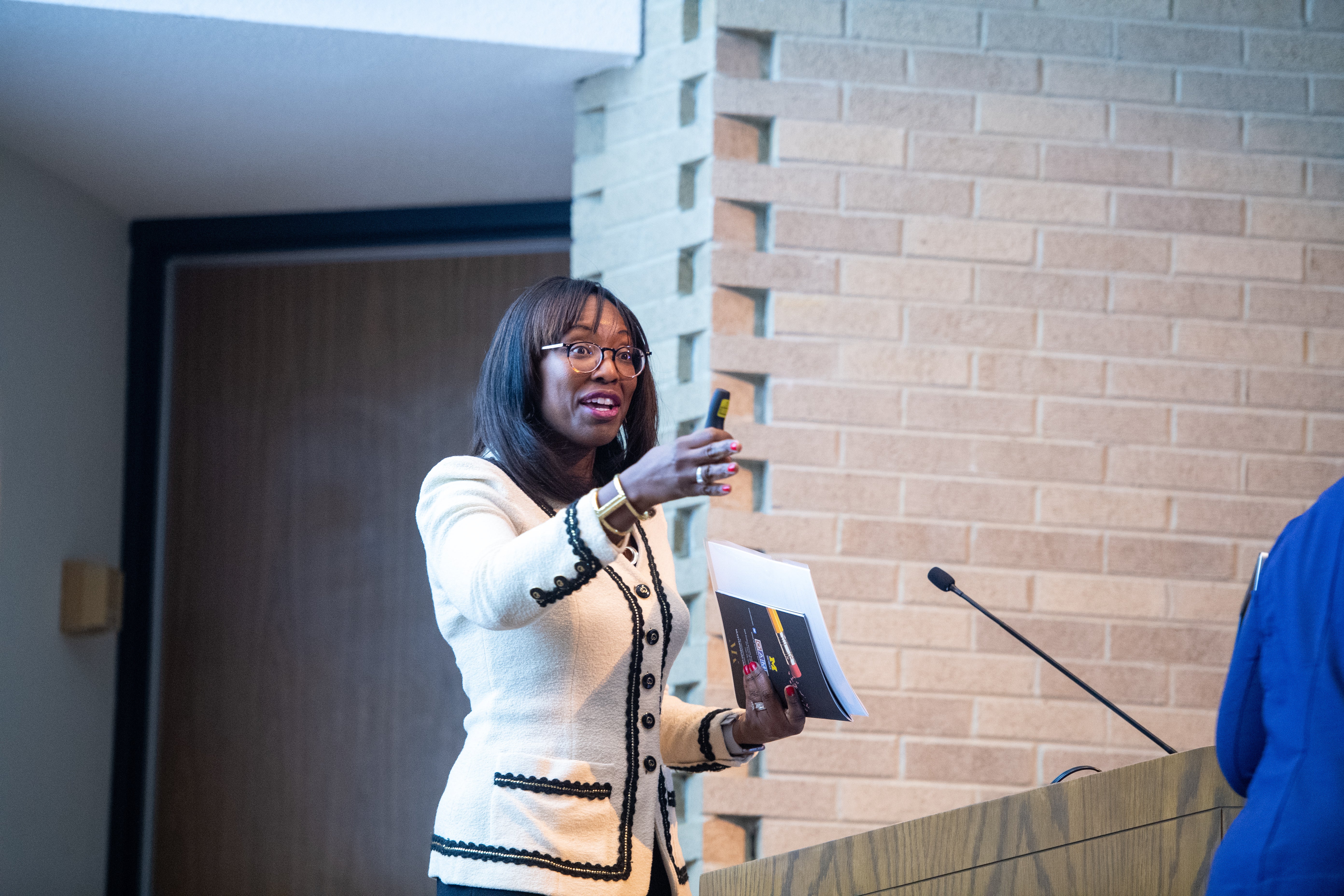 CLIMATEWIRE | As an intern for Dow Chemical in high school and college, Jalonne White-Newsome thought she'd found her life path.
There, the formulas she had learned in class — at a magnet high school in Detroit, then Northwestern University's chemical engineering program — no longer seemed like abstractions. They were the stuff of real life. So instead of graduate school, she started her career as a project engineer at U.S. Gypsum Corp., whose Sheetrock-branded products made it the continent's biggest drywall producer.
"At first, I intended to 'work at USG for 30 years and then retire,'" she later told the American Chemical Society.
But there was a problem: The company's legacy of manufacturing with asbestos was catching up to it. Facing hundreds of millions of dollars in legal claims, the company filed for bankruptcy protection in 2001 and laid off scores of workers — including White-Newsome.
Now, over two decades later, White-Newsome is joining the White House as one of its top environmental justice officials. At a time when environmental advocates are losing patience with the Biden administration's climate and justice efforts, many of them are hoping that White-Newsome can reinvigorate a host of environmental justice initiatives (Greenwire, May 5).
Those who know her say it's a natural fit. White-Newsome brings a long resume of philanthropic work, government experience, academic research and public policy advocacy. She's also left a trail of people impressed by her ability to build networks and juggle several roles.
"She jokes that when she was in middle school, she had a Franklin Planner," said Lois DeBacker, managing director of the Kresge Foundation's Environment Program, where White-Newsome created an innovative grant program aimed at the intersection of water, equity and climate change.
That organizational energy is no small thing for a job at the Council on Environmental Quality. White-Newsome's predecessor, Cecilia Martinez, told The Washington Post that the nonstop pace of working on Biden's environmental justice agenda left her "dangerously close to burnout."
In addition to the Kresge Foundation, White-Newsome has worked for the Maryland Department of the Environment (under administrations of both parties), WE ACT for Environmental Justice, and Empowering a Green Environment and Economy, a consultancy she founded.
She's also taught at Kettering University and George Washington University, in addition to holding fellowships with the Union of Concerned Scientists and the Environmental Leadership Program. She's published several peer-reviewed articles on climate's unequal impact on public health, with a focus on extreme heat.
But perhaps more foundational for White-Newsome was her time with U.S. Gypsum (now called USG).
"As [a] plant engineer, I worked 12- to 14-hour shifts, and I thought that was hard," White-Newsome told the American Chemical Society, estimating that, as WE ACT's first director of federal policy, she worked about 80 hours a week.
"It's a challenge to balance it all with my family life, but I love what I do," she said, adding that her secret to productivity was working early mornings and late nights. "Don't take yourself too seriously and don't let people see you sweat."
The Council on Environmental Quality didn't specifically mention White-Newsome's work for USG in its announcement yesterday naming her a senior director for environmental justice. Nor did it identify her other early jobs: production supervisor of a specialty chemicals facility run by Farro Corp. and environmental specialist for a consortium of automakers collaborating on internal-combustion engines.
But in the announcement, White-Newsome said her early career had shown her the damage that companies can do to people.
"I witnessed early in my personal life and professional career the consequences of valuing profits over people that has unfortunately resulted in a legacy of environmental injustices across our country," she said.
"However, we have an opportunity to create a new legacy. It will not be easy, but the critical and urgent work that the Biden-Harris Administration has undertaken is moving us closer to making environmental justice a reality."
Her early career put her on the path to CEQ in a more literal sense, too. U.S. Gypsum, in need of more environmental expertise, helped pay for her enrollment in Southern Methodist University's environmental engineering master's degree program in Dallas, she told ACS. (Ultimately, the company laid her off about three years before she graduated, according to her LinkedIn page.)
White-Newsome eventually returned to Detroit for work. She began to consider public health and environmental justice work when she took some time off for maternity leave, she said. She applied to the University of Michigan School of Public Health and got a full scholarship.
CEQ, which acts as a kind of nerve center for the government's environmental policies, is the perfect place for someone like White-Newsome, said DeBacker of the Kresge Foundation.
"That breadth of experience I think is an enormous asset, because she understands the perspectives of people working in different sectors, as well as recognizing the connections across different disciplines. So I think her work experience and her professional training allow her to avoid seeing issues in silos," she said.
At the same time, DeBacker added, she expects outreach to affected communities to remain "an incredibly high priority for Jalonne."
"She deeply believes in the wisdom of people who are in communities that are experiencing environmental injustices, and the importance of having their knowledge and their wishes and their solutions considered," she said.
Reprinted from E&E News with permission from POLITICO, LLC. Copyright 2022. E&E News provides essential news for energy and environment professionals.