Literary Hub is pleased to reveal the cover for Emerson Whitney's Daddy Boy, forthcoming from McSweeney's in May. From the author of Heaven, Daddy Boy explores transness, adulthood, and the exhilarating ways our lives might surprise us.
Here's a little more about Daddy Boy, from the publisher:
After a decade-long relationship with a dominatrix he called Daddy, Emerson Whitney began to crave something besides submission. It came as a full surprise: submission had been so central to his early adulthood. Now what? Dizzied by new questions of transness and aging, living in a tent while his relationship ends, Emerson stumbles upon an advertisement for a storm chasing tour. "For thrill seekers," it says. Unsure what else to do, he signs up.
Daddy Boy follows Emerson as he packs into a van with a group of strangers and drives up and down the country—staying in Days Inns and eating bags of carrots from Walmart and hunting down storms like so many white whales. Steeped in the prairie landscape of his childhood, Emerson recalls his adoptive dad, Hank, unflinching and extremely Texan; and his biological dad who, with his cowboy hats and puppies, always seemed so sweet and absent. From the van's trash-strewn backseat, and in the face of these looming figures, Emerson begins to wonder: Did he want to be Daddy now?
Gaze upon the glorious cover, designed by Sunra Thompson and illustrated by Amandine Urruty: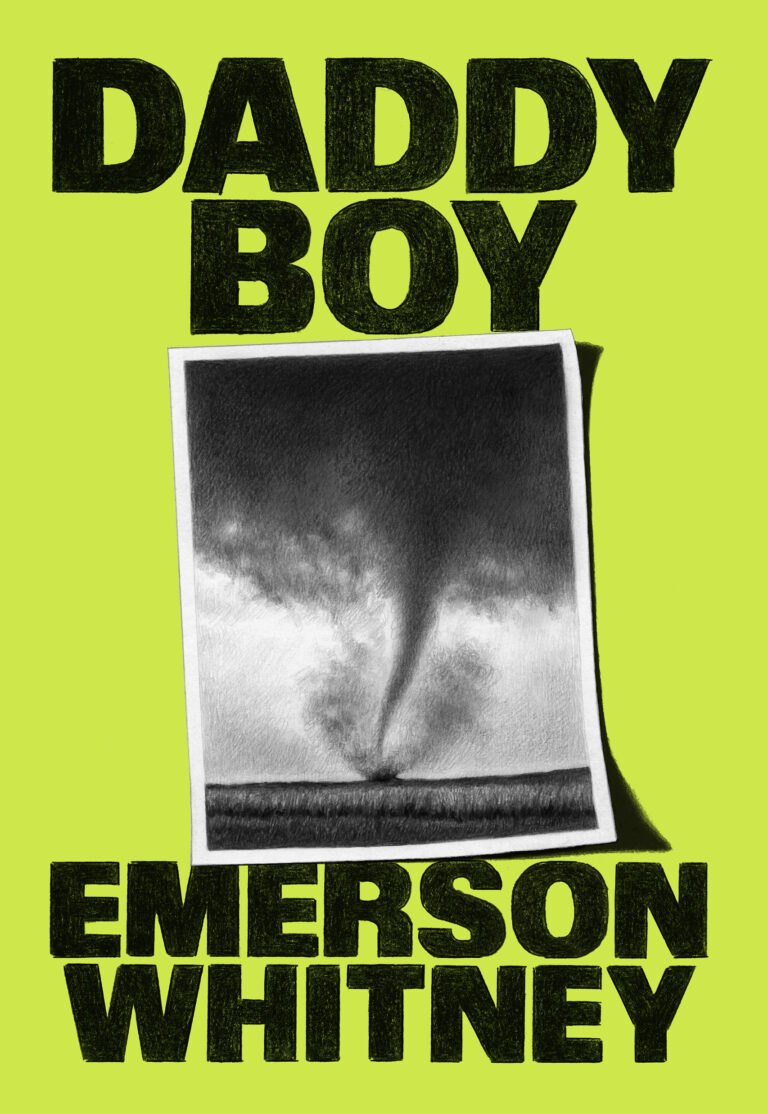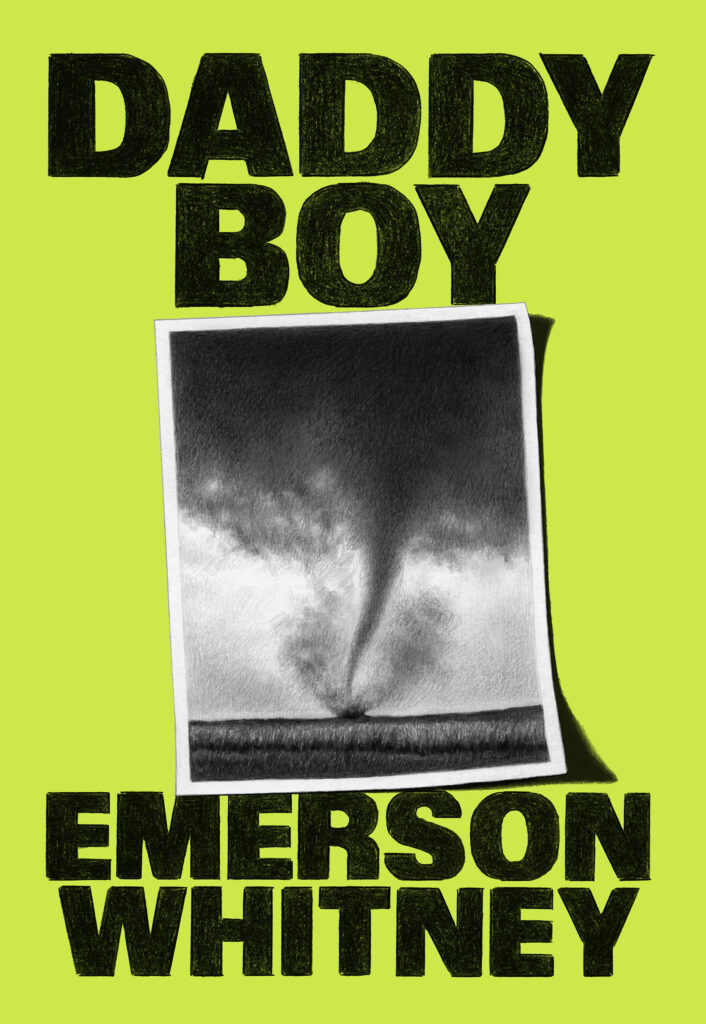 "I hope you all like this cover as much as I do, that green is so good to me—I always try to buy clothes that are this color, honestly, and against the lettering in that style, I find myself wanting to have the book around and to hold it," Emerson Whitney told Lit Hub. "Also, I was obsessed with images of tornadoes when I was a kid and so this rendering, in the form of a photograph, really exemplifies that craving I've always had and have written about here, it's hinting at themes of adventuring, of image-making, and the complexity of 'capturing.'"
Sunra Thompson, the Art Director of McSweeney's, spoke to us about the inspiration behind the imagery:
Daddy Boy, like Emerson Whitney's previous book Heaven, blends theory and memoir in a singular way. This new book, however, has a big, exciting, almost cinematic plot feature that we thought we'd try to emphasize on the cover: tornado chasing! From the beginning, I think, we wanted to have a tornado on the cover, so we asked the incredible Amandine Urruty to draw a snapshot of a tornado for us.
Daddy Boy will be available from McSweeney's on May 30, 2023.