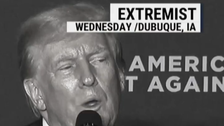 Trump, the 2024 Republican frontrunner, is "trying to paint himself as a moderate when it comes to abortion ahead of the 2024 election," the show captioned a supercut it aired on Sunday.
"Too bad for him that we have the receipts to remind you of his extremist record," it wrote on X, formerly Twitter.
The 48-second montage contrasts Trump's middle-of-the-road commentary with his repeated boasting about being responsible for ending federal abortion rights after the U.S. Supreme Court overturned Roe v. Wade.