Sens. Elizabeth Warren (D-Mass.) and Bernie Sanders (I-Vt.) sent a letter to Kroger on Wednesday asking whether the grocery store chain plans to pay its workers who say they were victims of wage theft.
Kroger employees have recently filed a spate of lawsuits alleging that the company's new payroll system has left their paychecks short. As HuffPost recently reported, one union said it had received hundreds of employee complaints regarding incomplete pay or unauthorized deductions.
Warren and Sanders told Kroger CEO Rodney McMullen that they would like some answers (full letter below).
"Given your company's record of anti-worker policies, and your ongoing attempt to push through a merger that would harm both consumers and workers," the senators wrote, "we are writing to request a full explanation of how your workers will be compensated for any lost or delayed wages, and how you will prevent future wage theft."
In a proposed class-action lawsuit filed in federal court in Virginia, one Kroger worker said her health insurance premiums had been deducted twice from her paychecks, while another said the company had failed to pay her time-and-a-half for her overtime hours.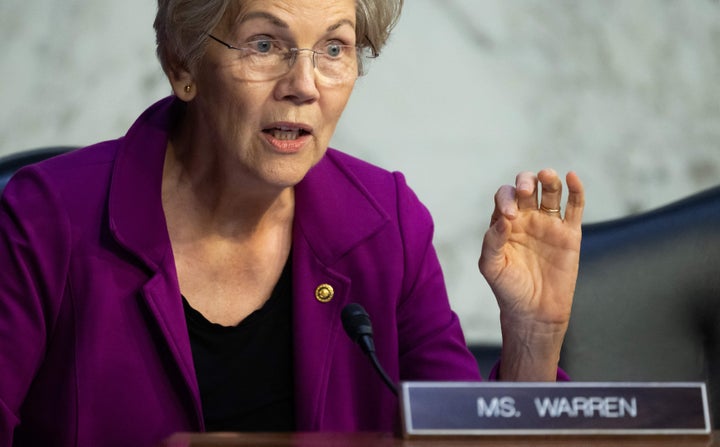 The lawsuit alleges these problems began last year with the arrival of a new payroll system called MyTime. A union official previously told HuffPost the system's rollout had been "a disaster."
Writing to McMullen, Warren and Sanders called the allegations "the latest example of your company's outrageous pattern of padding your own profits by mistreating your employees." They cited a 2021 survey by the Economic Roundtable, a nonprofit research group, that found more than three-quarters of Kroger employees said they faced food insecurity.
The senators have put some heat on the Cincinnati-based company in recent months as it seeks to merge with Albertsons to form the largest grocery conglomerate in the country.
"The senators accused Kroger of an 'outrageous pattern of padding your own profits by mistreating your employees.'"
The companies are likely to sell some stores in certain markets in order for the deal to gain regulatory approval from the Federal Trade Commission. Several locals of the United Food and Commercial Workers union have said the merger would eliminate union jobs and leave the companies with less cash to invest in stores or weather a downturn.
After fending off some legal challenges by state attorneys general and consumers, Albertsons has moved ahead with plans to pay out a $4 billion special dividend to shareholders as part of the deal.
Warren and Sanders have publicly opposed the merger and reiterated their concerns to Kroger in their letter, which was also signed by Sen. Ron Wyden (D-Ore.), chair of the Senate Finance Committee.
"This merger would exacerbate corporate consolidation in the grocery sector, and likely result in the shuttering of some stores across the country and the firing of workers from both Kroger and Albertsons," they said.
The senators also sent a copy of the letter to FTC Chair Lina M. Khan.