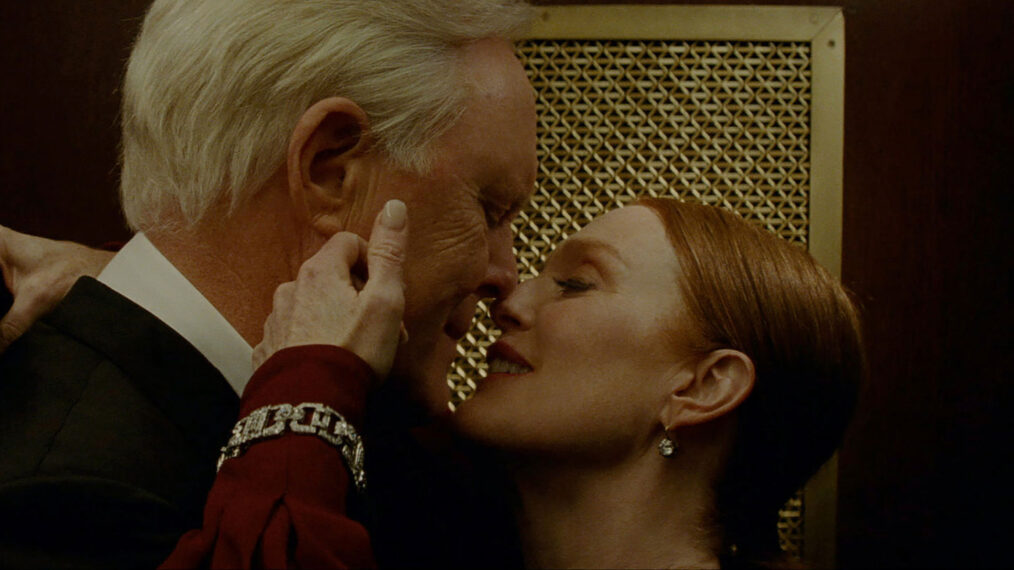 Sharper
You're never quite sure who's conning who in a glossy, enjoyably twisty movie that shows off New York from its posh penthouses to its Village bookstores. Julianne Moore, John Lithgow and Sebastian Stan are the headliners, with Justice Smith and newcomer Briana Middleton providing an emotional core as young lovers caught in unexpected ways in a web of deceit that may fold back on itself at least one too many times. Still, it's an enjoyable nesting-doll game that's worth curling up to on a winter night.
Hello Tomorrow!
A triumph of production design, though offering precious little narrative nourishment, this not-quite-comedy is set in a future as imagined in the 1950s. It's Mad Men meets The Jetsons, with vintage hovercars and primitive robot servants and bartenders peppering the urban and suburban world of its dreamers. Billy Crudup, an Emmy winner for Apple's The Morning Show, rocks a Don Draper vibe as dapper Jack, a slick salesman of moon time-shares that may or may not be legit. He certainly seems to believe it, even as he runs his company into the ground with starry-eyed optimism. What story there is more or less begins when he takes Joey (Nicholas Podany), the son he abandoned, under his wing as a sales associate, hiding his true identity. Talents like Hank Azaria, as a gambling-addicted co-worker, and Alison Pill, as an unhappy customer, are largely wasted, though it's always fun to look at.
Movies for Grownups Awards
Jamie Lee Curtis, Oscar-nominated for Everything Everywhere All at Once, accepts a Career Achievement Award at the annual ceremony honoring films that viewers of a certain age might actually watch. (Translation: No superhero franchise movies in sight.) Taped last month at the Beverly Wilshire Hotel for Great Performances, and hosted by Alan Cumming, the awards cover TV as well as movies. So don't be surprised, all things considered, at the good showing by FX's The Old Man. Best Picture candidates include Everything, Elvis, The Fabelmans, Tár, Top Gun: Maverick, The Woman King and Women Talking.
The 12th Victim
Their crime spree inspired such influential films as Badlands and Natural Born Killers, and with the perspective of time, a four-part docuseries executive-produced by Oscar winner Morgan Neville takes a fresh look at the 1958 murder spree claiming 11 victims in Nebraska and Wyoming by 18-year-old Charles Starkweather and accomplice Caril Ann Fugate, then 14. With archival footage and recreations, Victim analyzes Fugate's guilty verdict, questioning whether she was a participant in the crimes or yet another victim, hostage to Starkweather's violent behavior. (The entire series will be available for streaming and On Demand.
Also on the true crime watch: ABC's 20/20 (9/8c) revisits the shocking 2007 double murder in Norfolk, Va., of bride-to-be Angelique Goyena and her mother Vonda, with an investigative trail leading to Angelique's two-timing fiancé. On Dateline NBC (9/8c), Dennis Murphy reports on the 30-year investigation into the abduction-murder of 12-year-old Jonelle Matthews in Colorado.
Carnival Row
The look is steampunk, the character names are out of Dickens (Rycroft Philostrate, Vignette Stonemoss, Jonah Breakspear, Imogen Spurnrose), and the world-building brings together humans and fae in the second and final season of the deluxe fantasy-mystery. Orlando Bloom returns as rogue Inspector Philo, investigating gruesome murders as animosity builds among the oppressed fae population, which includes his lover Vignette (Cara Delevingne) and the vigilante Black Raven group.
INSIDE FRIDAY TV:
The Greatest @Home Videos (8/7c, CBS): Host Cedric the Entertainer presents the first "Cedy Awards," honoring the videos he certifies as gold, while letting viewers (in the East and Central time zones) vote live on which of his top two deserves "#1 Video of the Year" status.
BMF (8/7c, Starz): Meech (Demetrius Flenory Jr.) and Terry (Da'Vinchi) are back in Detroit from Atlanta, with a new distribution scheme, while Meech continues plotting to kill Lamar (Eric Kofi-Abrefa).
Josh Johnson: Up Here Killing Myself (streaming on Peacock): A stand-up set from the Daily Show writer and former Tonight Show writer-performer finds comedy through his reflections on Black mental health and self-discovery in therapy.
Animaniacs (streaming on Hulu): The third comeback season of the frenetically funny animated series is billed as the last, but is there really any keeping Yakko, Wakko and Dot down? Not to mention Pinky and the Brain, still figuring out how to achieve world domination.
Armageddon Time (streaming on Peacock): The coming-of-age film set in 1980s Queens stars Succession's Jeremy Strong and Anne Hathaway as parents of sixth-grader Paul (Banks Repeta), whose friendship with Black classmate Johnny (Jaylin Webb) leads to an awakening about inequality. A box-office disappointment, James Gray's movie gets a second life on streaming.
j-Hope in the Box (streaming on Disney+): A documentary profiles the BTS pop star as he prepares to release his first solo album, Jack in the Box, featuring footage form his 2022 gig at Lollapalooza.
Make or Break (streaming on Apple TV+): The second season of the surfing docuseries follows pro surfers during the 2022 competition season, including Kelly Slater marking his 30th year on the tour. Four episodes drop this week, with four more next Friday.